About the Book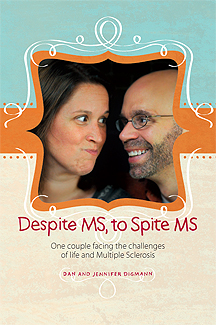 Introducing a heartwarming compilation of blog-inspired essays from Dan and Jennifer Digmann, a married couple living with Multiple Sclerosis.
In their publishing debut, "Despite MS, to Spite MS," the Digmanns share personal stories of their journey—alone and together—coping with and rising above this chronic illness. No matter who you are, you will be moved by this thirtysomething couple's inspiring message to the world.
Read about how a bizarre encounter with a bat led to Dan's diagnosis ... or how Jennifer coped with losing her ability to walk. Along the way, you'll glimpse the passion and strength of a relationship that is tested every day by the reality of a disease for which there currently is no cure.
A portion of the proceeds from "Despite MS, to Spite MS," will benefit the National Multiple Sclerosis Society and Camp Courageous.